INTRODUCTION
The LiitoKala Lii-402 is a smart multifunctional charger. if you need charging your batteries and do not want fancy features, this is a good charger, light and powerful. it can charge 4 batteries at a time. Li-on and Ni-MH batteries are supported at the same time.

The charger also has LED indicators, easy to handle. You'll know all battery information, including battery capacity. You Need a powerful adapter for fast charging but using the Plug from Samsung or apple is good as well.

Functions:
In the case of power, hold the selection key for 2 seconds to select charging current. Press the SELECT button to choose the type of rechargeable battery. it will start to charge 5 seconds after setting the battery type ( for example, 3.20V 3.85V ).
When the USB output is detected, the power indicator turns on for 10 seconds and press button again to check the power.
When the charger connected to 5V power supply, all the LED will turn on, if the battery is not fully put into the charging slot, 500mA (LED) indicator will light on, others light off.
When the batteries connect with charger, the four LED lights light on, 3.7 LED light will flash, then press the button to select the type of battery you need to charge, if not selected, after 5 seconds, the charger will automatically identify batteries and charger them.
When not energized, you can insert the battery to check the power, if needed, press button to check again after 5 seconds.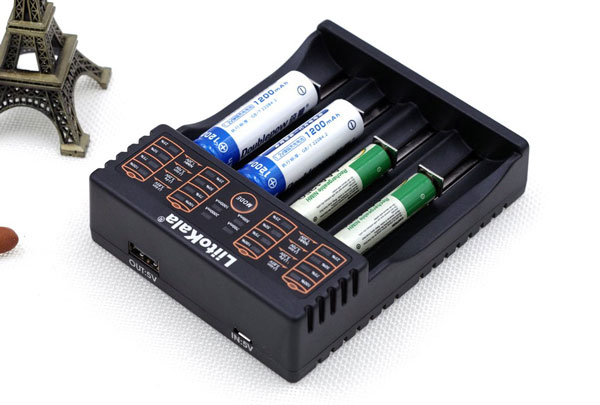 Ni-MH (1.2V)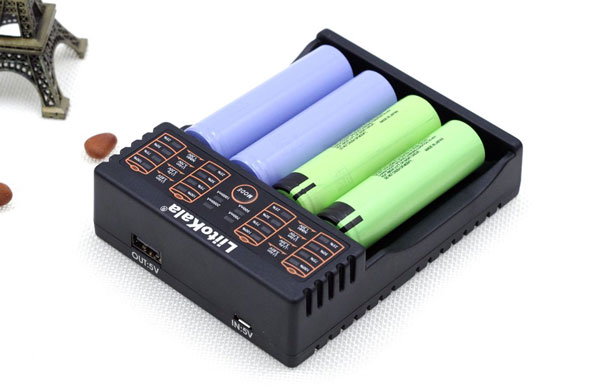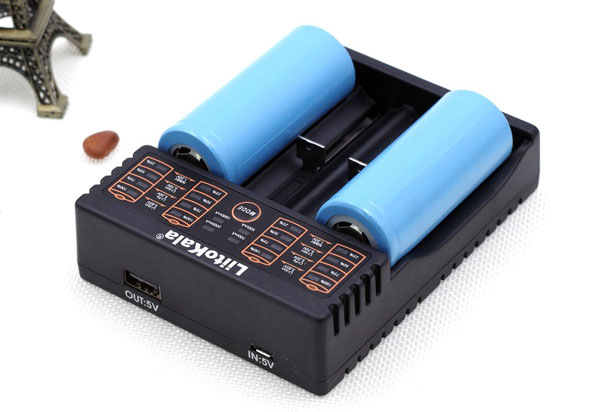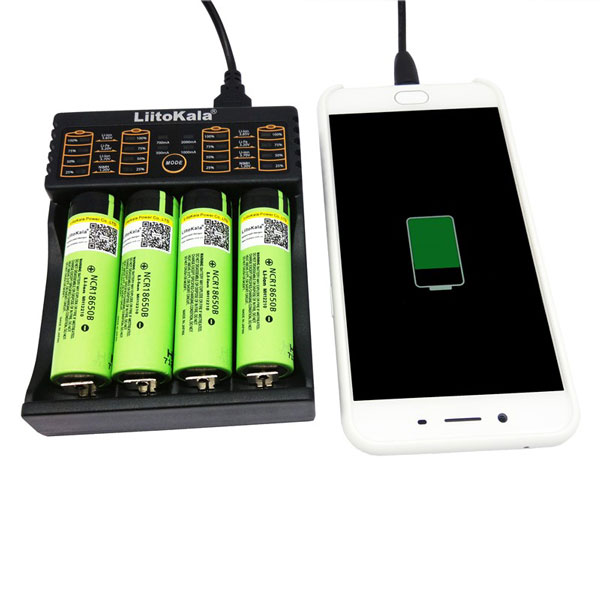 Note:
Once charged a type of battery, you need to remove power and reconnect again to charge a different battery type.
Also cannot change charge ampere once charging started or charging new battery set. Need to disconnect USB power and reconnect then set the battery ampere.
FEATURES
Micro USB DC 5V input, four independent charging, and microcomputer management system.
The LED indicators display the charging progress: 25pct - 50pct - 75pct - 100pct.
Four charging current mode 500mAh / 700mAh / 1000mAh / 2000mAh ), 2000mAh current mode is fixed only on the fourth slot.
Identify Li-ion and Ni-MH batteries automatically and adjust manually the charging mode for LiFePO4 and 3.85V Li-ion batteries.
Protection for overcharge and over discharge and short circuit. Identify broken battery and polar reverse inspection.
SPECIFICATION
Brand: LiitoKala
Type: Charger
Plug: USB
Charging Cell Type: Lithium Ion,Ni-MH
Compatible: 14500,16340 (RCR123),17500,17670,18350,18490,18650
Input Voltage: DC 5V
Output Voltage: 1.42V 4.2V±0.05V, 3.65±0.05V 4.35±0.05V
Input Current: 2A
Output Current: 2000mA / 1000mA / 700mA / 500mA
Product weight: 0.1300 kg
Package weight: 0.1600 kg
Product size (L x W x H): 11.20 x 9.00 x 3.00 cm / 4.41 x 3.54 x 1.18 inches
Package size (L x W x H): 15.00 x 12.00 x 5.00 cm / 5.91 x 4.72 x 1.97 inches
SHIPPING LIST
LiitoKala Lii - 402 Quick Charger x1
USB Cable(In the package) x1