INTRODUCTION
SIM808 GPS/GPRS/GSM Arduino Shield is an integrated quad-band GSM/GPRS and GPS navigation technology Arduino shield. A credit card size only, according to the standard Arduino pin packaging, compatible with Arduino UNO, arduino Leonardo, arduino Mega and other mainboard. Compared to the previous generation SIM908, SIM808 made some improvement on performance and stability. In addition to the normal SMS and phone functions, the shield also supports MMS, DTMF, FTP and other functions. You can achieve the data acquisition, wireless data transceiver, IoT application and GPS orientating.
What's it for:
Send and receive GPRS data (TCP/IP, HTTP, etc.)
Receive GPS data and A-GPS data
Send and receive SMS messages
Make and receive phone calls
Use SIM808 arduino shield is quick and easy. With intuitive functions packaged into a single library, you can focus on your project and not waste time studying complex AT commands.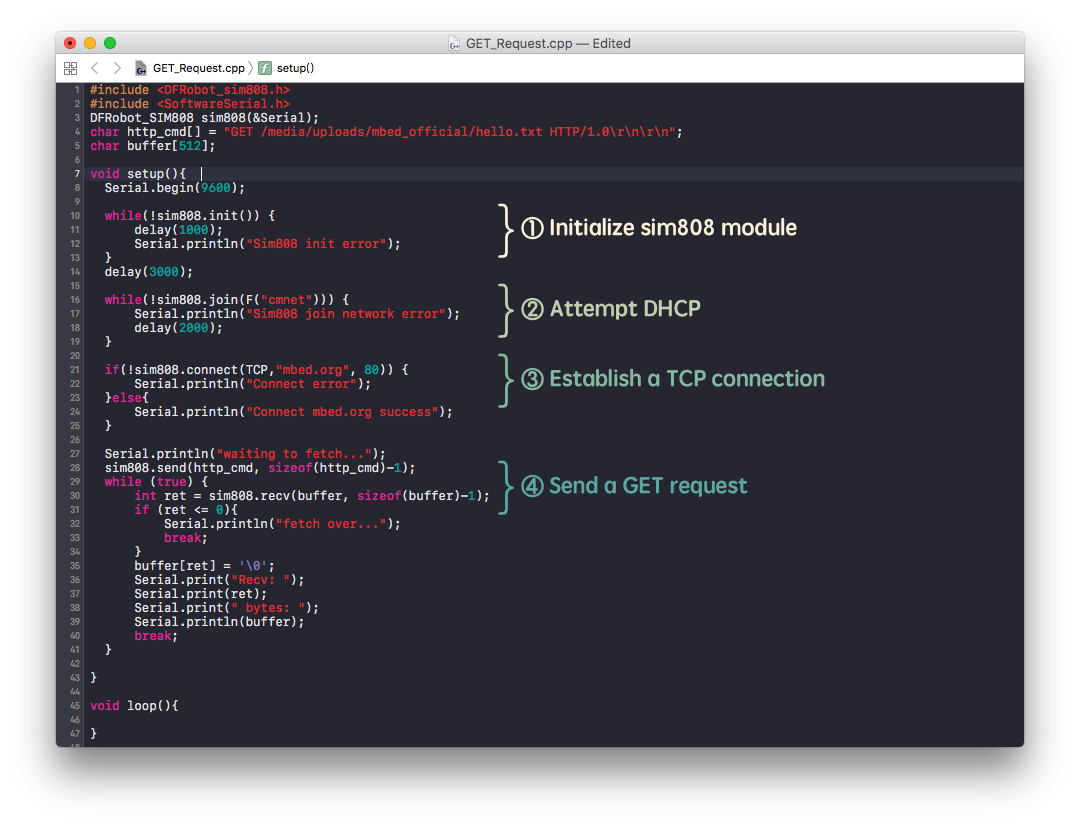 4 Steps to send a GET request
SPECIFICATION
Quad-band 850/900/1800/1900MHz – 2G GSM network
GPRS multi-slot class12 connectivity: max. 85.6kbps(down-load/up-load)
GPRS mobile station class B
GPS Receiver channels: 22 tracking / 66 acquisition
Coarse/Acquisition code: GPS L1
Tracking sensitivity: -165dBm
Time-To-First-Fix: Cold starts: 30s (typ.), Hot starts: 1s (typ.), Warm starts: 28s (typ.)
Horizontal position accuracy: < 2.5m CEP
Update rate: 5Hz
Supports Real Time Clock
Uses standard SIM Card holder
Operating voltage: 5V
Input Power: 7-23V
Support AT command control (3GPP TS 27.007,27.005 and SIMCOM enhanced AT Commands)
Support LED status indicator: Power supply status, network status and operating modes
Working environment: -40 ℃ ~ 85 ℃
Size: 69 * 54mm/2.71 * 2.12 inches
Weight: 50g
SHIPPING LIST
SIM808 GPS/GPRS/GSM Shield x1
GPS Antenna x1
GSM Antenna x1